Indoor Commercial Swimming Pool Ireland
€3.25 ( £2.87 ) to heat a Commercial Swimming Pool to 29°C per day.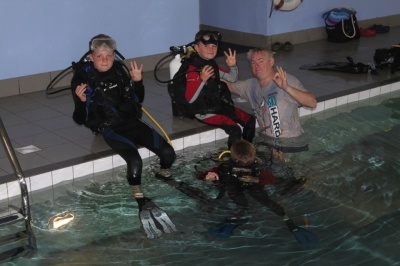 A similar size local swimming pool is costing €126.00 per day to keep at 29°C, saving more than €45,000 a year on heating the swimming pool water.
The purpose-built 12 meters by 6 and 1.5 to 3.7 meters deep Mevagh indoor Scuba Diving training swimming pool in County Donegal, Ireland, chose the Thermapool Swimming Pool Insulation system for energy savings and extra durability. Even when divers drop weights and tanks on the pool floor everyday at 3.7 meters deep it has no impact to the Thermapool surface, showing how strong Thermapool really is.
"Mevagh indoor Scuba Diving training swimming pool was built to be profitable and enjoyable. The swimming pool holds 160,000 litres of sea water for added diver buoyancy. We heat the swimming pool water to 29°C and swimming pool air temperature to 30°C to reduce the evaporation and reduce the heat loss from the swimming pool water when the cover is off.
I estimate the initial sea water heat up of the swimming pool water must have cost €575.00. Now we find the daily running costs is just €3.25. We are very happy with the advice and support we have received from the Thermapool team throughout the entire project . We have now recommended to our old training swimming pool that they should consider refurbishing the swimming pool with Thermapool due to the saving they will achieve"
This swimming pool is heated with woodchip which is 30% cheaper than oil.
How we acheived these figures:
The swimming pool was emptied over Christmas 2010. Due to the scuba diving boots marking the white render, the decision was made to empty the swimming pool and repaint it. They had the facilities heating costs prior to emptying the swimming pool. Whilst the swimming pool was empty they gained new daily running costs and when the swimming pool was refilled they calculated the daily heating cost of the swimming pool to be £3.25 per day.