News
Cambridge News
04/11/2011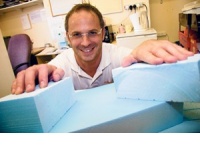 Nigel's no fool with cool new swimming pool rules
The carbon footprint of swimming pools could soon take a dive thanks to research by Anglia Ruskin University that show how transparent covers can lead to huge savings.
If all UK swimming pools were insulated in this way the energy saved would reduce CO2 by 786,279 tonnes a year – the equivalent of a forest of 86 million trees. That's enough trees to cover Greater London.
The research was financed by swimming pool insulation specialists Thermapool, which has designed Thermacover.
Nigel Rose, founder and CEO of Thermapool, said: "This not only allows the heat of the sun through to the swimming pool but it is also laced with air bubbles that act as an . . .