Our Story
The Thermapool Team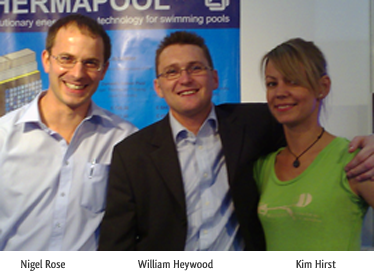 Thermapool was conceived in 1997 after company founder and former builder Nigel Rose questioned why if lofts, walls, floors and basements had to be insulated why didn't a swimming pool structure. Having questioned many senior swimming pool experts on why they didn't want to insulate swimming pools, Nigel was not content with there answers and saw a huge market opportunity to save this wasted energy.
Nigel continued to develop Thermapool and submitted a patent on his designs in 2003. Nigel commissioned Dr Brian Anderson of BRE (one of Europe's most senior experts on heat transfer from buildings, who had written many of the British Standards for insulation including basement building regulations) to carry out a report on heat loss from swimming pools. This was published in 2004. The report showed that Nigel's proposed method would save 86% of the heat loss which is 50% more effective than insulating on the outside of the swimming pool structure.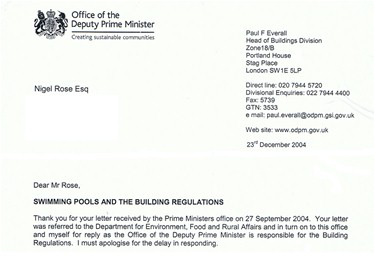 For several years Nigel worked on developing his idea sourcing and developing the solutions for his concept of internal pool insulation. Over time he gained interest from large companies like Ardex, Dow Chemicals, BASF and many more. Although proposals were made by several companies, Nigel was not convinced they where the right proposals for his solutions. He decided to commercialise the Thermapool systems without any major backers and the leap of faith proved visionary. Within six months UK manufacturers had been sourced and Thermapool was ready for market.
Since 2003 Nigel lobbied Government to enforce minimum insulation standards under building regulations for swimming pools. Initially the Government showed little interest. In 2006 Nigel commissioned Kingston University to carry out a report into the potential market size for the swimming pool industry. The BRE and the Kingston reports showed the amount of Co2 that could be saved nationally if swimming pool insulation was included within the building regulations. Amazingly this gave the Government an increase Co2 saving of 35% on top of their proposed changes to the initial building regulations. As a result of his efforts, in October 2010 it became Building Regulation to insulate all new indoor swimming pools to a standard similar to house wall construction.
As a result of Nigel's increased knowledge on energy and carbon savings his product was recognised by Ofgem, under the Carbon Emissions Reduction Target 2008-2011. Thermapool is at the present time the only swimming pool insulation product within the CERT scheme, allowing Thermapool customers to claim grants of up to £3,500 toward the cost of insulating there swimming pools.