Pools Accdreditations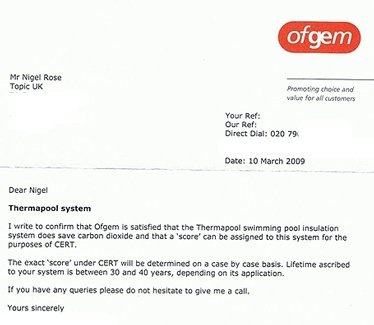 Thermapool is a unique patented brand of swimming pool insulation developed since 2001 in association with leading UK universities and building institutes. It is now the first and only swimming pool insulation product accredited for UK Energy Grants (SSE CERT Scheme).
Our insulation is so efficient that our UK customers report that they can turn off their swimming pools heating in some Summer weeks! The explanation for this, affirmed by academic research in the UK by Anglia Ruskin University, is that once insulated with Thermapool, your swimming pool surface acts like a solar panel, absorbing and retaining energy from the Sun, preventing it escaping through the ground. Less energy is required to heat your swimming pool while you get more use of it.
Your Thermapool insulated swimming pool is guaranteed for 25 years.
All Thermapool products meet and exceed the new UK building regulations coming into effect in 2010 and 2013, which state that insulating newly constructed swimming pools is compulsory.
Independent tests have established that Thermapool will retain its thermal performance for more than 40 years.
Over 10 years of research and development.
Unlike other building insulation materials Thermapool swimming pool insulation is designed to be installed inside a swimming pool, making it 50% more efficient than conventional methods, saving you 86% of heat loss.
Thermapool is proud to be an eco-friendly company. Thermapool swimming pool insulation prevents hundreds of tonnes of CO2 entering the earth's atmosphere. This is why we are the only swimming pool insulation company eligible for a Government subsidy. Commercial jobs can benefit from loans from the Carbon Trust.