Swimming Pool Installation Guide
Swimming Pool Installation Guide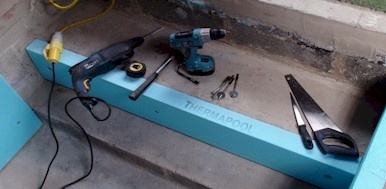 Swimming Pool Insulation couldn't be simpler
Thermapool has a wealth of experience in swimming pool construction and design. We work in partnership with a nationwide network of approved trained installers in the construction, Renovations and maintenance of swimming pools. The products are backed by eight years of academically acclaimed research and development.
This patented swimming pool insulation system has OFGEM recognition for a 40-year life span and comes with Thermapool's 25-year Guarantee.
Become a Thermapool installer with our on site training service
Thermapool offers on-site training which helps you to install Thermapool, but also means as a qualified installer, you can claim energy savings grants to insulate you customers swimming pools.