Types of Insulation
Thermapool Insulation
Polystyrene Blocks / Sheets
Polyurethane Panel Pool
Independently Tested with Government Energy Saving Grants
-
-
Maintains Thermal Performance in Pools
-
-
Conforms to industry standards including:
BS EN 13164:2001
BS EN 13172:2001
EN 14891
BS EN 12003
BS 5385-3
-
-
Steel which does not rust
-
-
Swimming Pool Construction Method
New Build & Renovation
New Build Only
New Build Only
Complete Swimming Pool Construction
-
Type of Swimming Pools
PVC, Steel, Tiles, Rendered, Plaster
Marblelite
PVC Only
PVC Only
---
The following insulation materials are only suitable for use in buildings - NOT swimming pools. When used in a swimming pool, they will come into contact with moisture making them wet and so they lose their insulating properties. It is pointless to incorporate the wrong insulation material into a swimming pool insulation system yet still many well established companies do so.
Expanded Polystyrene
Polyurethene
Fibre Glass
Phenolic
Thermapool has the strength, durability and elasticity to withstand minor ground settlement cracks. With no visible cracks, swimming pools retain their quality looks for longer.
This picture below shows water being squeezed out of the Polyurethane swimming pool insulation that was removed from the pool.

Change In Thermal Conductivity With Moisture after seven days. A costly mistake was made at the Helios Olympic swimming pool in Brussels, which had to be reinsulated as the Polyurethane insulation had taken on moisture.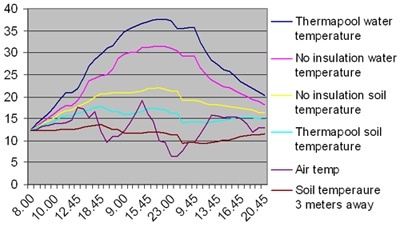 When moisture is absorbed into insulation IT LOSES its insulating properties. Dry weight polyurethane - 55 kg m³ | Wet weight - 495 kg m³
Moisture absorption accelerates heat loss, causing increased energy consumption. It leads to physical deterioration of the insulation, resulting in dimensional changes which compromise structural integrity. Wet insulations in low-temperature service have no opportunity to dry out. Moisture migrates to the point of lowest temperature and builds to permanent liquid saturation.
The majority of insulating materials absorb water and lose their insulating efficiency. Thermapool is resistant to both liquids and vapours. Thermapool will not deteriorate through age or usage and its insulating efficiency will not diminish in pools.